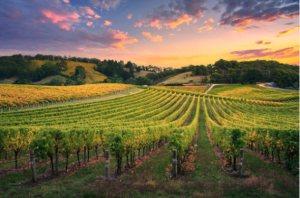 ---
Martinborough History in a Nutshell:
The basic shape of Martinborough dates from 1879 when John Martin purchased a large 13,800 ha station known as Hurangarua Run. He immediately divided the southern part into 593¼ acre urban sections, 80 x one-acre and 334 farmlets, ranging from two to 1,100 acres.
The centre of the township was loosely based on the Union Jack, with street names reflecting cities Martin visited on a global tour in the early 1880s.
By 1875, the town's population was just 75 (today it is 1,700). Martinborough boomed in the first part of the 1900s, with new buildings and new roads. Whilst John Martin senior had little ongoing involvement with the development of the town, various descendants have been directly involved with Martinborough's evolution – and continue to do so today.
By the 1970s Martinborough was in decline, officially a dying backwater town. In 1978, a town meeting was called to evaluate new agribusiness opportunities as a solution to Martinborough's depressed economic state. Attending that meeting was soil scientist Derek Milne, who having compiled extensive research on the major wine regions of the world, realised Martinborough's potential for grape growing. It was Milne's colleague Dr. Neil McCallum, who took a punt on Milne's research and was the first producer to plant vines in 1979, Dry River. Milne followed suit by planting Martinborough Vineyard in 1980,  followed by Clive Paton who planted Ata Rangi. Stan Chiffney planted Chiffney Estate, later to become Margrain and in 1983, Te Kairanga was established. 1984 saw the first commercial release of wine by Dry River.
By the mid 1980s there were just five producers. Today, there are over 40 and  Martinborough represents just 1% of New Zealand's total wine production, yet showcases 10% of New Zealand's producers. Because of viticulture, Martinborough is a globally recognised wine region – especially for New Zealand Pinot Noir. With an abundance of cafes restaurants, hotels and holiday houses, the 'heart' of Martinborough – the village atmosphere, community spirit and close-knit philosophy, remain the same.
---